Advanced Dental Technology of Japan
日本の歯科技工技術の素晴らしさ
Japan's dental technology is the best in the world!
日本の歯科技工技術は世界ナンバー1!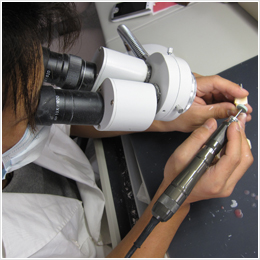 Japan is well recognized internationally for its highly advanced dental technology. Such reputation is built upon the expert knowledge and delicate high-quality skill of the dental technicians who are trained to pass the national qualification exam. There are only three countries (Japan, Taiwan, and Korea) in the world that have established national qualification system for a dental technician. Among them, the Japan's qualification and training system is so excellent that the other countries adopted the system as a model, including many translated versions of Japanese textbooks.
Because of their high-quality advanced skills, the dental technicians who obtain the national qualification are wanted even in the other countries, such as the United States, Canada, Australia and Europe.

Ceramic Factory Tokyo provides you the world's highest level of dental technology with our high skilled technicians who hold the national dental qualifications and the state-of-the-art equipments.